Back in 2013 we published an article in our annual SRM report entitled "Is it time to bring supply chains home?" The strap line was "Global sourcing has been helping businesses to reduce costs for many years, but is it time to think again about that long and vulnerable supply chain?"
In that article we spoke at some length about the increased risks associated with global supply chains and how in the years preceding a number of extraordinary events had occurred that have had a severe impact on supply chains and how they illustrated the range of risks inherent in global sourcing. We even went so far as to show a five year timeline listing the global events that all to some extent had caused supply chain disruption.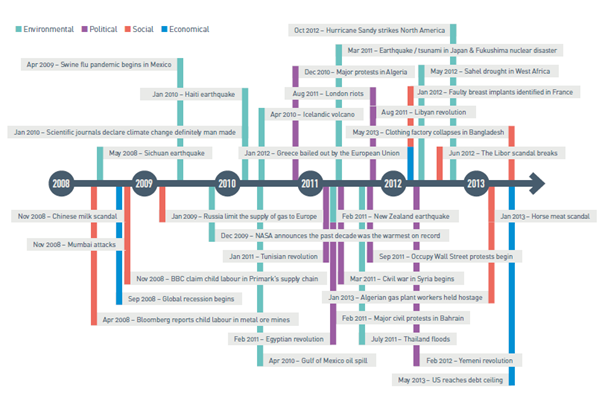 State of Flux global SRM report 2013
Interestingly we identified these events as environmental, political, social and economic. At no point did we highlight a pandemic. However, project that timeline forward seven years and would we would be including SARS, Ebola, MERS and of course Covid-19. It goes to prove that you can't always rely on the past to predict the future.
While it must be acknowledged that none of these events had anything like the impact of the current crisis, they should at least have called into question the wisdom of having extended global supply chains, and at the same time trying to make them lean and just in time. The range and unpredictable nature of these events should have served as sufficient warning, if not to change strategy completely then at least to build more risk management and contingency planning in to our supply chains.
The question that is increasingly being asked is whether this crisis will be enough to halt and begin to reverse the move to global supply chains that none of the preceding events have?
---
Have you participated in this years 2020 supplier management survey?
Survey: Supplier management at speed
Take part here
---
While some governments including the USA and Australia are suggesting that they will decrease their dependency on China, this could only be achieved via the imposition of tariffs and/or a massive investment in local manufacturing capacity. If that investment isn't forthcoming then the economic pressures that companies will face post-Covid will mean that supply chains don't come home, but instead are transferred to other locations with the same inherent risks.
Another consideration of course, and a lesson we must learn, is that the current situation didn't just mean that supplies from overseas were interrupted. The nature of this emergency meant that even a product sourced just down the road might have become unavailable.
This brings us back to the pressing need to raise the profile of risk management from a perceived burden to a strategic imperative to protect the long term interests of companies and all stakeholders.
We'll examine just how resilient risk management provisions were during the pandemic when we analyse the results of the 2020 global supplier management research currently underway. In this year's report we'll not only be exploring global supplier management practice, but also the specific experiences and lessons learned from the current Covid-19 crisis and how to respond by implementing supply chain risk management at speed.

For further information on how we can help your organisation reinvent its supplier relationships for a new era, please contact us here or at enquiries@stateofflux.co.uk.
To read the "Is it time to bring supply chains home?" article in full you can download the 2013 State of Flux global SRM report here
Take part in this years 2020 supplier management survey