Over the 12 years that State of Flux has been conducting research into supplier management best practices, the theme of 'people and skills' has continued to demonstrate that the behavioural side of SRM far outweighs technical skills when it comes to delivering real commercial value. Add to this that our most recent 2020 research shows that just 17% of organisations have conducted an SRM capability assessment, and we have real cause for concern. The result is that the majority of organisations have no evidence based view that their people are actually equipped with the behaviours that build collaborative supplier relationships.
So, what are these behavioural 'soft' skills that represent the way we should be doing business, why are they needed more than technical know-how, and how do soft skills unlock the quantified commercial value that business leaders are becoming impatient to see?
The findings of our research correlate well with our extensive 'in-the-field' consulting experiences. The most important skills, as identified by more than 600 survey respondents (with more than 50% at CPO/EVP or equivalent level) are all soft skills.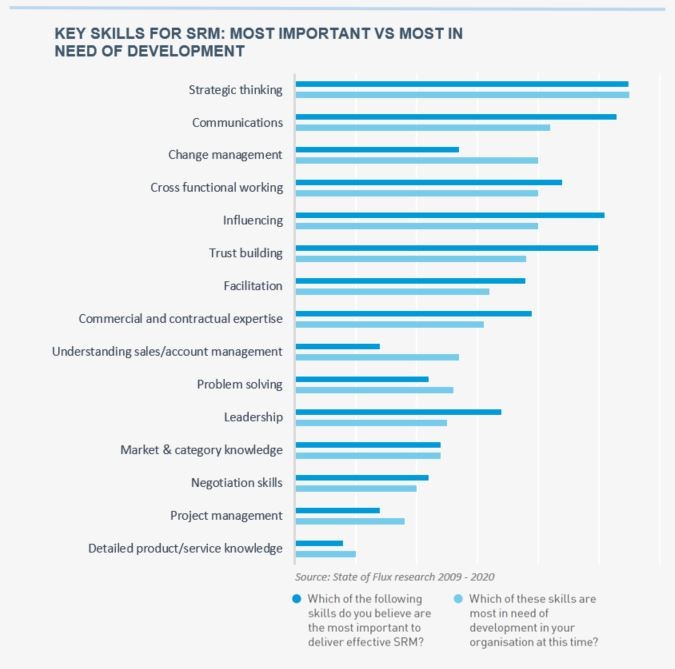 Strategic thinking, communications, change management, cross-functional working, influencing, trust building and facilitation are all at the top of the list. It's only when we get further down that we see technical skills – market knowledge, negotiation skills and detailed product knowledge being identified.


Real value is being left unaddressed
Value creation relies heavily on soft skills. Yet the research also shows that these are also the ones that are most in need of development. And this prevailing situation, this gap in capability, is preventing too many organisations from ever seeing the commercial value that the leaders in SRM manage to achieve. Here's why:

A strategic thinking skills deficit is resulting in key supplier relationships being approached with a short-term, operationally focused, cost-centric mind-set. No wonder so many strategic account managers are telling us that they actively try to go around procurement.
A lack of true collaborative working

(underpinned by skills gaps in communications, cross-functional working, trust building, facilitation and so on) is also damaging too many supplier relationships, as suppliers (who find themselves on the receiving end) learn that SRM, in reality, just represents another form of profit margin erosion.
Ultimately, effective SRM requires the active engagement of, and collaboration with, the supplier. Value gets created where people deal with people – not because we have a contract that specifies it, or a governance model that requires it, but because some suppliers want work with us in an environment that is built on trust and mutuality.
"Having been in procurement for the majority of my professional career, I have seen organizations put primary focus on strategic sourcing to capture value from suppliers. Protecting, delivering, and creating additional value through Supplier Relationship Management is incredibly important to the evolution of working with a supply base, especially through the COVID-19 pandemic. State of Flux excels at all things SRM and I could not be happier to join such a welcoming and hardworking team."

Taking SRM skills to the next level
How do we lead our most important supplier relationships to a better place? We've leveraged our research, our consulting experience and literally hundreds of SRM benchmarking exercises to evolve and keep our training programmes up-to-date with the contemporary best practices that are needed to deliver commercial value from SRM. These best practices rely on being able to apply the all-important soft skills in the correct context – achieving a balance between the 'art and science' of strategic relationship development.
State of Flux SRM learning programme

Our evolved curriculum deals with core areas such as contract, performance and risk management and extends our action learning based approach into advanced topics such as value release and supplier innovation as well as influence and trust building. Alongside these topics our new master-class themes extend our programme to include facilitation, joint account planning and delivering commercial value through SRM. And, throughout the programme the soft-skills that we know make the difference are all taught and applied in context as students use live strategic and critical supplier relationships as their personal case studies.
If you're looking for an SRM learning programme that delivers real behaviour change, then our latest evolution offers a comprehensive solution that goes from introduction through to an advanced level in one in a comprehensive package that can be scaled to deliver your SRM objectives and people development strategy. Importantly, if you've already completed a State of Flux SRM learning programme with us, the new master-class modules provide highly relevant and actionable continuous learning options.

In summary
Fundamentally, we believe that a strategic supplier relationship manager should operate as a business-to-business coach. They are the person that understands the supplier, and the suppliers' role in our value chain better than anyone else. The person who will take a balanced view and create the working environment that allows the full potential of the relationship to be unlocked. They are able to identify all the forms that value can take in a given supplier relationship. And they can facilitate and lead joint account planning as a collaborative activity.
Our goal is to help organisations, teams and individual supplier managers learn how to use both the 'art' and 'science' of supplier management in a holistic way, in the right context, to deliver sustainable commercial value from your most important supplier relationships, and we'd welcome the opportunity to tell you more about our approach to capability assessment and how our learning and development programmes can unlock commercial value through your team.
For more information on our SRM learning programme here or to discuss how we can help your organisation reinvent its supplier relationships for a new era, contact us here or at enquiries@stateofflux.co.uk